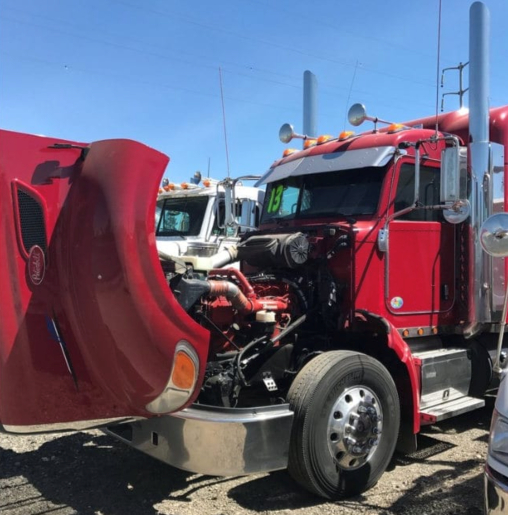 Detroit Mobile Truck Repair Company offers big rig repairs plus so much more. We are a complete one-stop service shop that can provide you with everything you need to keep your fleet of vehicles running smoothly. Our services include:
Truck and trailer repairs

MDOT inspections

Mobile truck and trailer repairs

Preventative maintenance programs

Fleet management services 

24/7 roadside assistance
These are just to name a few. Call us today at 313-710-5518 to find out more.
We Bring Our Team To You
We have the knowledge and skills necessary to accomplish any job with excellence. We are prepared to work on your car, truck, SUV, or van in any condition. It matters not if you own one vehicle or a hundred; we will come to you. We comprehend that having your vehicles towed to a service center may be inconvenient and costly. This is why we provide mobile truck and trailer repair services. We will come to you in Wayne County and give you the same high-quality service that we would at our workshop anywhere around Detroit.
We understand that time is money and will not waste it. Our technicians are highly trained and have the experience to do the job right the first time. We know your vehicles are an essential part of your business, and we will get you back on the road as soon as possible.
MDOT Inspections
At Detroit Mobile Truck Repair Company, we understand that, as a trucking company, you must have your vehicles regularly inspected by the Michigan Department of Transportation (MDOT). To take care of this for you, our team will perform comprehensive inspections of your vehicles to ensure they meet all MDOT standards.
We have a full checklist of boxes that need to be checked during an MDOT inspection, and we will ensure that your vehicles meet all the requirements.
Preventative Maintenance Programs
We understand the importance of maintaining your trucks and trailers in excellent operating order. This is why we provide preventative maintenance solutions. These programs are intended to assist you in avoiding costly repairs in the future. We'll work with you to create a preventive maintenance plan that meets your demands.
Fleet Management Services
If you have a fleet of vehicles, we can help you manage them. Our fleet management services include:
Vehicle tracking

Driver management

Maintenance scheduling

Fuel management

Dispatching 
Nothing is damaged or overlooked. No one gets left behind. You may focus on your core expertise and leave the fleet management to us.
24/7 Roadside Assistance
Trucking is a 24/7 industry, so we provide roadside assistance 24 hours a day, seven days a week. We understand that trucking is a 24/7 operation. As a result, we provide around-the-clock support. We'll come to your rescue if you have an issue with your truck or suffer an accident. We'll tow your car to our facility and get you back on the road as quickly as possible after an issue occurs.
Tire Changes For Cabs And Trailers
Changing tires may be a difficult and dangerous task, so we provide cab and trailer tire changes. We will come to you and change your tires promptly and safely. Outside tires take approximately 10 minutes to replace, whereas inside jobs take around 20-30 minutes. You can rest confident that the work will be done correctly in either case.
Truck and Trailer Repairs
Do you need your truck or trailer fixed? Whether it's a small problem or something more serious, our Detroit Mobile Truck Repair Company team can help. We have experienced mechanics who know how to fix all makes and models of trucks and trailers. 
We offer many services, so give us a call today to learn more about what we can do for you.
These are just some of the services we offer at Detroit Mobile Truck Repair Company. Call us today to find out more. We are here to help you keep your trucks and trailers on the road.
Call us when you need us at 313-710-5518.