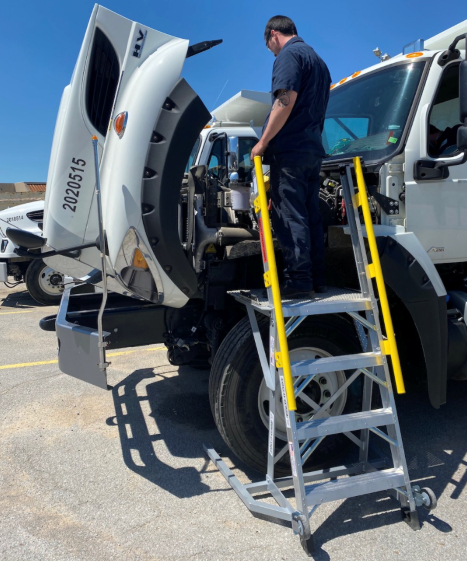 Commercial truck engines are designed to run for long periods without issue, but that doesn't mean they don't need regular maintenance. One of the most important aspects of keeping a commercial truck running smoothly is ensuring the engine oil is changed regularly. Detroit Mobile Truck Repair can help with that.
Oil changes for heavy-duty engines are typically recommended every 25,000 miles, but it's important to keep an eye on things and make changes as needed. When you bring your truck to Detroit Mobile Truck Repair, we'll look at the oil and make a recommendation based on your driving habits and engine condition.
If it's been a while since your last oil change or if you're noticing problems with your engine, it may be time to visit Detroit Mobile Truck Repair. We can help get your truck back on the road and keep running smoothly for years.
High-Quality Lubricant and Filters
Detroit Mobile Truck Repair only uses the highest quality lubricants and filters to help keep your engine running smoothly for a long time. By ensuring that no corners are cut, and no chinsy products are used, our team can extend your engine's life. We believe that our customers deserve nothing less than the best, and we work hard to deliver on that promise every day.
Regarding truck repair, Detroit Mobile Truck Repair is the name to trust. We have years of experience in the industry and a commitment to providing quality service at an affordable price. We understand that downtime can be costly, so we work diligently to get you back on the road as quickly as possible.
If you're looking for high-quality lubricants and filters, look no further than Detroit Mobile Truck Repair. We offer a variety of products to meet your needs, and we stand behind our products 100%. Contact us today at(313) 710-5518 to learn more about our services.
Why Change Your Own Oil?
Detroit Mobile Truck Repair is the perfect place to take your truck for an oil change. We have the equipment and expertise to do the job right, and we can save you time and hassle.
Changing your truck's oil can be a difficult, messy job. It requires special jacks and drums and takes up a lot of space. Our guys can handle all that for you so you can relax and focus on your business.
We also offer oil changes as part of our fleet maintenance package. This comprehensive program includes regular inspections and preventive maintenance to keep your trucks running smoothly and safely.
Contact Detroit Mobile Truck Repair today if you're looking for reliable, professional truck maintenance. We'll take care of everything, from oil changes to trailer repairs and commercial truck suspension repairs.
Detroit Mobile Truck Repair is the place to call for truck oil changes in Detroit. We do it at your location, and we do it fast.
Give us a call today at (313) 710-5518.